Reduction of CO2 emissions
TAMRON is reducing CO2 emissions in its business to realize a decarbonized society. TAMRON reviewed its basic unit targets up to now, changed it to a target of reducing CO2 absolute amount by 30% in 2030 compared to 2015.
Breakdown of CO2 emissions
CO2 accounts for most of the greenhouse gases released by TAMRON. As regards the sources of CO2 emissions(excluding distribution and logistics), electricity usage accounts for 98%, followed by heavy oil at 1%. Given this mix, our energy saving activities focus on electricity.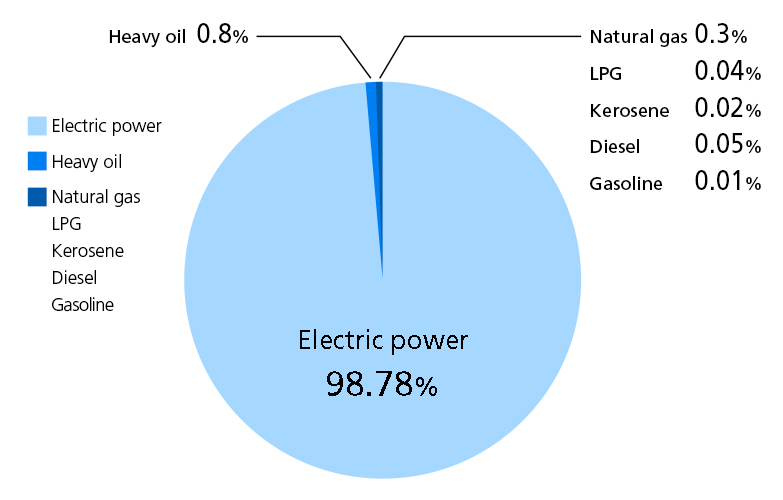 Change in CO2 emissions
In 2021, TAMRON set the target of reducing CO2 emissions by 3% compared with 2015 levels. Although emissions increased at TAMRON OPTICAL (VIETNAM) CO., LTD. because the rate of operation increased due to strong business, we managed to reduce emissions by 5.6% overall, beating our target, in part due to solar-based renewable energy that has been pursued for some time, in addition to updated air conditioning heat source equipment installed at head office in 2020, and the complete replacement of air conditioning at TAMRON OPTICAL (FOSHAN) CO., LTD. in 2021.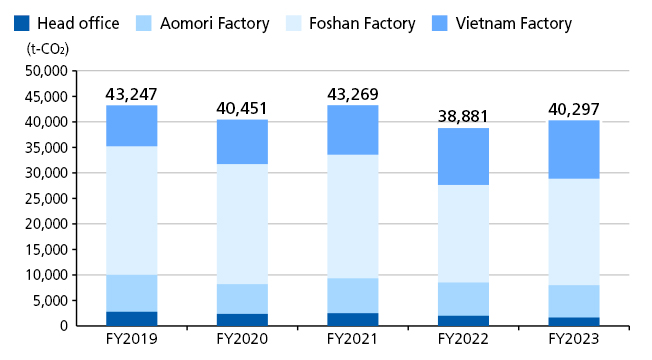 Ascertaining CO2 emissions in the supply chain (Scope3)
In order to realize a low-carbon society, not only activities within TAMRON but also efforts throughout the supply chain including upstream and downstream are important. To promote our efforts, we have grasped indirect greenhouse gases (Scope 3) related to business activities in the supply chain.
Breakdown of Scope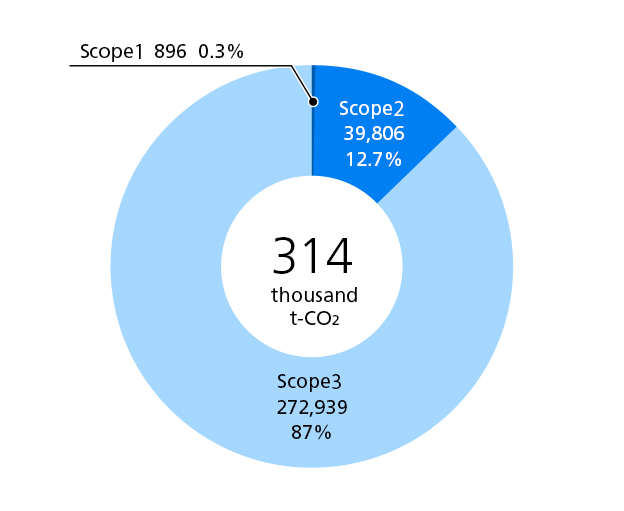 Change in Scope 3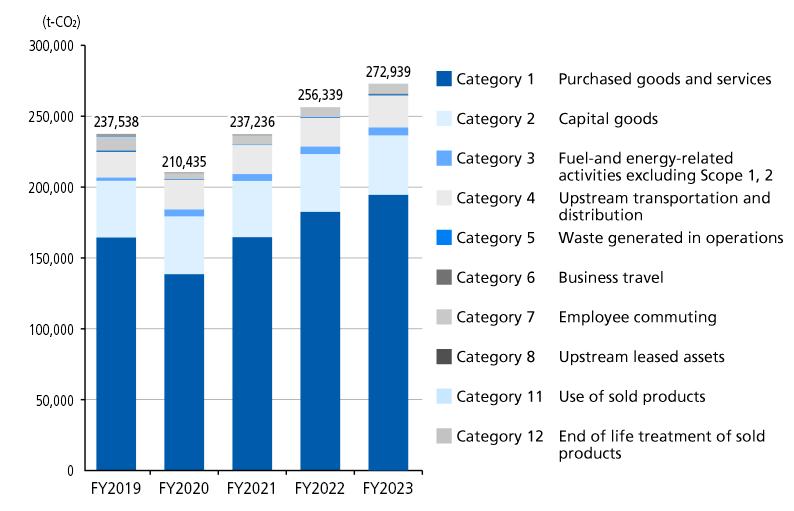 Please see below for details of scope 3 data.
Ascertaining CO2 Emissions in the Supply Chain (FY2021)
Initiatives to Reduce CO2 emissions
Energy-saving Initiatives
In 2020, head office significantly reduced power consumption by replacing air conditioning heat source equipment. Although energy-saving heat pump chillers were already in use, we have now introduced new high-efficiency modules. Additionally, by tuning equipment according to load, we were able to achieve a more than 60% reduction in power consumption in comparison with previous levels.
CO2 Reduction Effect in 2021
Site
Measure
Reduction Effect
(t-CO2)
Head Office
Switch chiller to energy saving type
200
Foshan
Solar power generating system (all capacity used)
236
Vietnam
Operational improvement of compressors
Adjusting chiller operation
75
40
TAMRON Europe
Solar power generating system (all capacity sold)
48
Renewable-energy Initiatives
In 2017, TAMRON Optical (Foshan) in China began installing solar power generation systems.
Initially, emissions were reduced by around 180 t-CO2 per year, and as a result of the expansion of facilities, last year emissions were reduced by around 606 t-CO2, which translates to a little over 2%, at TAMRON Optical (Foshan) in China. In addition, starting this year the head office and TAMRON Optical (Foshan) in China have purchased renewable energy credits for about 4,300 t-CO2, corresponding to around 9% of companywide CO2 emissions. We will strive to reach our reduction target of 6% compared with 2015 levels in 2022.