Windows Computers
1Access the following website and download the installer program.

https://www.tamron.com/global/consumer/support/download/lensutility/
2Double-click the downloaded file to activate the installer and begin installation.
3Check the screen for language setup, choose the default language, and click the OK button.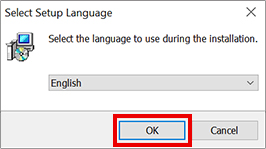 4Proceed with installation according to the instructions shown on the screen.

If you are unable to install the Software
* Please make sure that you are logged into the PC with Administrator Privileges.