Initiatives to Become a Resource Recycling Society
Toward the realization of a resource recycling society
In order to create a sustainable society without depleting limited resources, we need to create a circulation-based society in which we produce with few resources and energy , reduce waste, and reuse resources. It is possible.
TAMRON works on 3R which are reduction of raw materials and waste (Reduce), to reuse materials and water can be used repeatedly(Reuse), and recycling waste as material (Recycle), for circulating resources efficiently.
Material Balance
In Japan, TAMRON carries out design work, creates prototypes, fabricates metal molds and molds plastic components at its head office plant located in Saitama Prefecture, while the Aomori Factory (Namioka Site) manufactures lenses and the Aomori Factory (Hirosaki Site) assembles products. TAMRON manufactures parts and assembles products at TAMRON Optical (Foshan) in China and at TAMRON Optical (Vietnam).
These sites use electricity, heavy oil, kerosene and other energy sources for developing, designing and manufacturing, which produce CO2. Our plants in Namioka, Foshan and Vietnam also use water for polishing and cleaning lens elements. The head office and TAMRON Optical (Foshan) manufacture plastics used to make peripheral components for lenses, and these processes produce runner materials(*1) and other waste. Air cargo, marine shipping, and trucks are used to transport components and products between plants, which results in CO2 emissions from the burning of fuel.
*1 Waste material that occurs when pouring plastic resin during the production process.
INPUT
TAMRON
OUTPUT
Unit
Unit
Iron
6,078
t

Procurement of raw materials and parts

CO2 emissions
182,509
t-CO2
Glass
19,819
t
Plastic
3,744
t
Resin
1,789
t
Paper
386
t
Chemicals
1,148
t
Cardboard
673
t
Energy
706,000
GJ

Development, design and production at TAMRON

CO2 emissions
38,881
t-CO2
Electric power
78,238
103
kWh
Electric power
38,176
t-CO2
Heavy oil
190
kℓ
Heavy oil
515
t-CO2
Kerosene
7
kℓ
Kerosene
18
t-CO2
Diesel
5
kℓ
Diesel
14
t-CO2
Gasoline
1
kℓ
Gasoline
3
t-CO2
LPG
4
103㎥
LPG
24
t-CO2
Natural gas
59
103㎥
Natural gas
131
t-CO2
Water
776
103㎥
Water discharged
488
103㎥
Clean water
605
103㎥
Products
930
t
Groundwater
170
103㎥
Rainwater
1
103㎥
Water reused and recycled
13
103㎥
Total amount of discharged matter generated
2,090
t
Chemicals
9
t
Industrial waste (*2)
1,660
t
General waste
430
t
Recycling
1,127
t
Plastic (*3)
285
t
Cardboard
204
t
Genaral waste
(thermal recycling)
74
t
Waste liquid
208
t
Waste oil
42
t
Metal
243
t
Paper
30
t
Polishing sludge
12
t
Other
29
t
Energy (*1)
177
kℓ

Transportation

CO2 emissions
452
t-CO2
Diesel
156
kℓ
Diesel
402
t-CO2
Gasoline
21
kℓ
Gasoline
50
t-CO2
Electric power
2,632
103kWh

Use

CO2 emissions
180
t-CO2
Sites covered : Head office (including Sales Office), the plants in Aomori Prefecture, TAMRON Optical (Foshan) and TAMRON Optical (Vietnam).
Site coverage : 95%
Reference guideline : Manual for Calculating and Reporting Greenhouse Gas Emissions Ver. 4.8.
*1 Data during transportation covers energy used to transport parts and finished products by ground and commercial vehicles connecting TAMRON's satellite offices in Japan and TAMRON Optical(Vietnam). TAMRON Optical (Foshan) data covers company-owned vehicles only.
*2 Regarding to Pollutant Released & Transfer Registered (PRTR) substances, industrial waste includes the transfer of 1.5 tons of xylene and 1.4 tons of ethylbenzene. 1.6 tons of xylene, 1.5 tons of ethylbenzene and 0.0063 tons of methylnaphthalene were also released into the atmosphere.
*3 The amount of plastics recycled represented 124 tons of thermal energy and 160 tons of material.
Waste Reduction
Waste volume increased 5% year on year in 2022, and the industrial waste recycling rate in Japan was 99.3%. Waste volume increased 32% in Japan and declined 3% at overseas plants. The increase in domestic waste volume was mainly due to the temporary generation of waste such as wooden containers, crates and metal when repairs and layout alterations were made to the Aomori Factory.
Waste generations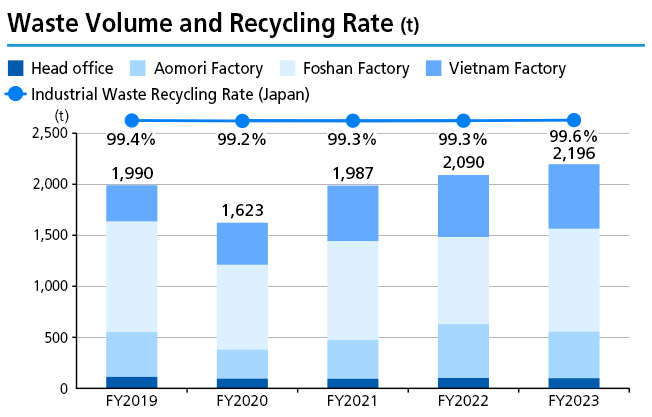 Promoting Design for the Environment (DfE)
TAMRON manufactures environmentally friendly products by placing emphasis on the 3 Rs (reduce, reuse and recycle). At the design review stage of product development, we assess the extent to which we have achieved a longer service life (longer use, easier repair), resource savings (lighter weight, more compact, reduction in the number of parts, use of recycled materials, easier disassembly), and energy savings (lower power consumption at manufacture and use stages). Products that are environmentally friendly and that meet TAMRON voluntary standards are certified as being TAMRON Eco Label products. See here for certified products.
Regulation of Hazardous Substances
TAMRON has formulated regulations for the management of environment-related substances to comply with the Restriction of Hazardous Substances (RoHS) Directive, the Regulation concerning the Registration, Evaluation, Authorisation and Restriction of Chemicals (REACH) and other laws and regulations restricting chemicals contained in products. Accordingly, we have constructed a environmental and quality assurance system for ensuring the management of hazardous substances and the prevention of contamination.
In consideration of the possibility of hazardous chemical contamination, we possess an array of measuring instruments including an X-ray fluorescence (XRF) analyzer, an inductively coupled plasma atomic emission spectroscopy (ICP-AES) analyzer, and a gas chromatography mass spectrometry (GC-MS) analyzer to examine whether there is any lead, mercury, cadmium, hexavalent chromium, brominated flame retardants (PBB and PBDE) or four phthalic esters (DEHP, BBP, DBP and DIBP) contained in components/ raw materials, or products and to quantify the amounts when detected.
We will maintain our system for obeying the hazardous chemicals regulations in countries around the world to provide human- and environmentally-friendly products that customers can use with peace of mind.
Realization of plastic recycling
In particular, we have been focusing on reducing the amount of plastic waste generated, which amounted to over 285 tons per year. In order to reduce the amount of waste deriving from manufacturing processes, the rear caps for TAMRON's DSLR camera lenses are made using 100% recycled plastic runner materials(*1). From FY2010 to FY2022, we used a cumulative total of 196.7 tons of recycled materia (in 8.94 million rear caps).
TAMRON has also considered new recycling methods at Integrated Design, Production Technology and Production Sub-committee meetings to further promote recycling. As a means of reducing waste while maintaining quality standards and ensuring that product functionality is not affected, TAMRON adopted "Preconsumer Closed Recycling, which involves mixing recycled materials with virgin materials. Since FY2017, TAMRON started to utilize these recycled materials for the mass production of the filter screw rings, a component of interchangeable lens for SLR cameras. TAMRON will continue to expand the introduction of recycled materials in components, examine new areas to target and promote waste reducing and recycling.
*1 Waste material that occurs when pouring plastic resin during the production process.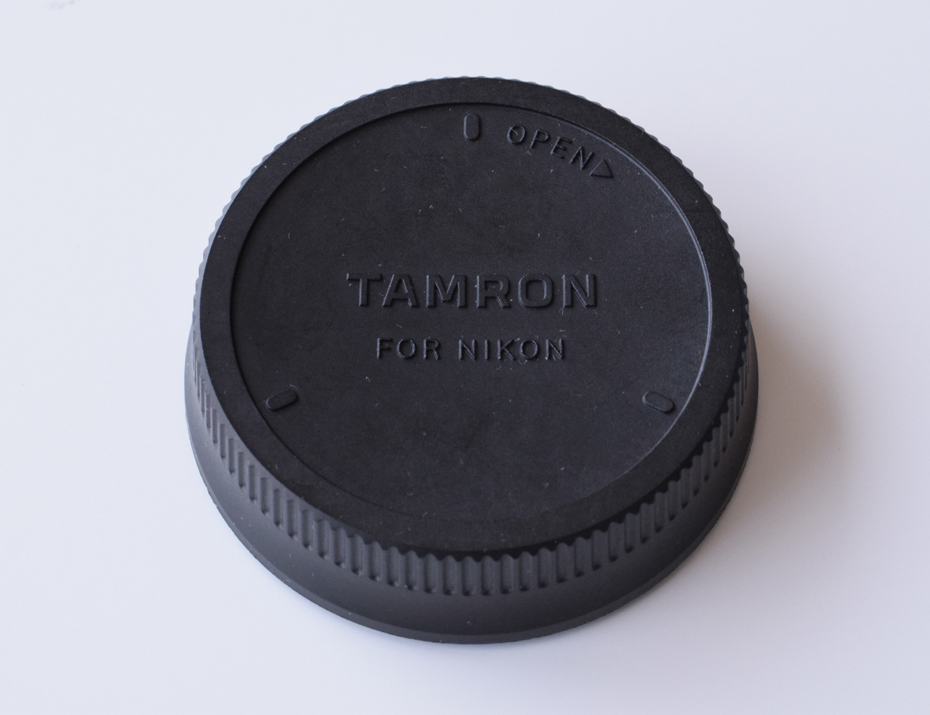 <Flow of recycling>