TAMRON has set the Corporate Mission that aims to improve corporate value and create a sustainable society. Toward the realization of the Corporate Mission, we identify issues that must be resolved for the sustainable growth of our company and society as key CSR issues.
Corporate Mission
TAMRON creates emotion and
reassurance through its mastery of light,
contributing to the realization of a fulfilling society.
About TAMRON Corporate Philosophy
CSR Themes for Enhancing CSR Management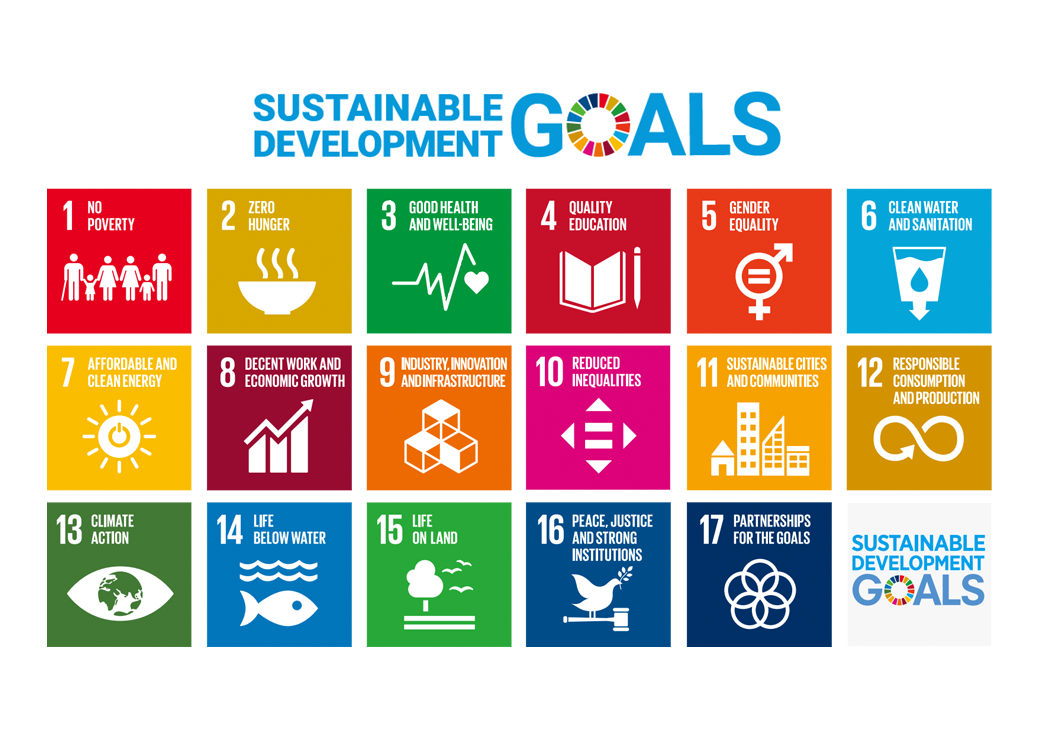 CSR Themes for Enhancing CSR Management
We have been working on our business operations under CSR themes established for being a company acknowledged by stakeholders, and we have established the "Standards of Business Conduct", which is the way TAMRON behaves as a company.
We have established a sound corporate governance system and carry out management with a fundamental focus on compliance,while also considering the economy, society and the environment.
Furthermore, by engaging in themes such as the environment,quality/product safety, and employment/human resources and other social issues, we are striving to be a company that has the power to be selected by customers.
CSR Themes and Standards of Business Conducts
1.Contributing to social issues through business(SDGs)
Looking to providing solutions to social issues, TAMRON creates new value through its corporate activities to achieve economic growth, solve social issues and contribute to the realization of a fulfilling society.
2.Quality and product safety
TAMRON combines innovation with its technological capabilities to create excitement and peace of mind by providing high quality products that earn the trust of customers while considering safety and the environment.
3.Environment
TAMRON recognizes that global environmental issues are issued shared by humanity, endeavors to reduce the impact on and conserve the environment, and contributes to the development of a sustainable society in harmony with the environment.
4.Compliance
TAMRON is aware that it exists together with society. We place a priority on observing laws and regulations while respecting social rules, and carry out our corporate activities with a high sense of ethics.
5.Information disclosure
To enhance corporate value, TAMRON actively works to disclose corporate information effectively and fairly, and engages in constructive dialogue with the stakeholders associated with its business.
6.Occupational safety and health
To develop a pleasant workplace environment that considers the health and safety of each employee, TAMRON monitors the state of health of its employees, undertakes initiatives on the maintenance and management of health, and makes every effort to ensure employee safety.
7.Social contributions
To create a society in which people can experience spiritual fulfillment, TAMRON engages in activities contributing to the development of photography and film culture, and acting as a good corporate citizen, takes part in local community activities and contributes to their development.
8.Human resources/human rights
TAMRON makes every effort to provide employees with opportunities to develop and demonstrate their abilities in ways that respect their diversity, character and individuality. We embrace a global perspective, value teamwork and endeavor to cultivate human resources who harness creativity.
9.Information management
TAMRON establishes protections from threats such as information asset incidents and crimes, and lives up to the trust placed in it by customers and society.
10.CSR procurement
TAMRON engages in sound trade practices, and works with its business partners to promote procurement activities that consider social responsibility including human rights, labor standards and the environment.
11.Risk (crisis management)
TAMRON prepares against risks that could threaten civic life or corporate activities, and does the utmost to prevent such risks from occurring. Should any such crisis occur, we will make every effort to minimize damage and loss, effect a swift recovery, prevent recurrences and fulfill our social responsibility.
12.Corporate governance
Top management works to build up sustainable corporate value by establishing governance to engage in fair, transparent and swift decision making in response to a changing business environment.
Standards of Business Conduct
Management system for CSR ( SDGs )
TAMRON holds CSR Committee to make decisions on important matters regarding CSR management and to confirm the progress of goals. The management department of the CSR themes reports the progress of the target once a quarter, and reports it whenever there is a major environmental change or important matter need to be decided. With TAMRON's president serving as committee chair, CSR Committee holds teleconferences with officers and the managers of divisions in head office and plants in Japan and overseas to consider various matters.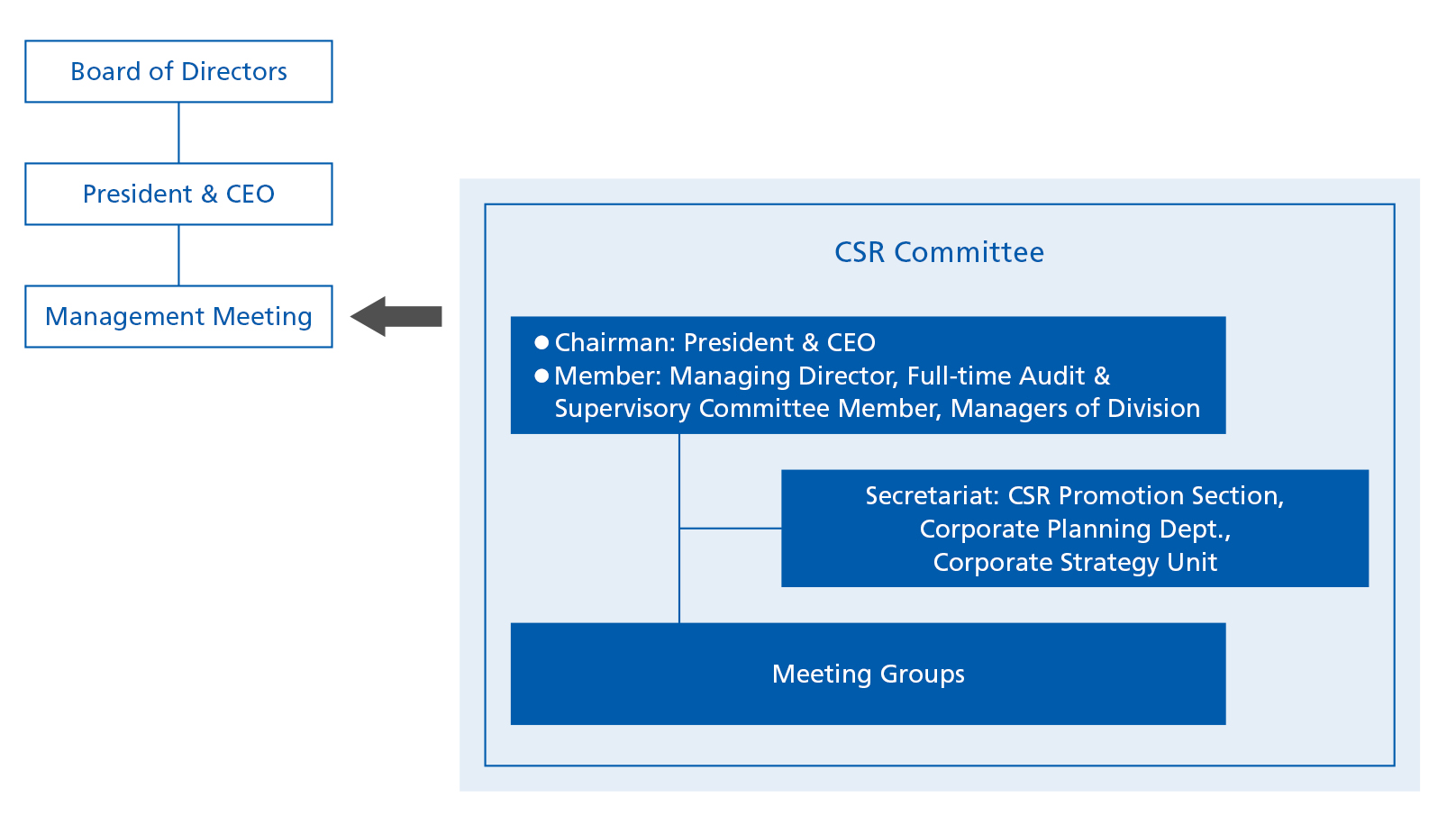 Initiatives Aimed at Key CSR Issues
Method of Identifying Key CSR Issues
In order to accurately grasp social issues, we used three steps to identify key CSR issues (materiality).
First, in consideration of the fact that our business is global, we have identified and recognized social issues from guidelines and indicators that are used internationally, such as "ISO 26000," the "10 principles of the United Nations Global Compact," "SDGs," and the "RBA Code of Conduct."(Note 1) Next, we evaluated the degree of importance for each stakeholder with whom we have business ties, and the likelihood and degree of impact of risks related to each social issue (importance for Tamron). After reviewing the validity of the evaluation results, 15 key CSR issues were identified, and decided by the CSR Committee.

(Note 1) The RBA Code of Conduct refers to ensuring a safe working environment, treating workers with respect and dignity, being environmentally responsible, and conducting business ethically in the supply chain of the electronics industry.
(Note 2) Nurturing the next generation is a social contribution that supports the development of primarily local area young people who will be responsible for the future of photography and imaging culture.
Initiatives Aimed at Key CSR Issues
TAMRON has established goals among the key CSR issues.
Key CSR Issues
2022 results
2023/Mid-Term-Goals
SDGs
Goal
Target
Contributing to social issues through business
Contributed to social issues through each business
Formulation of a human rights policy and construction of a human rights due diligence

3.6

Halve the number of deaths from traffic accidents

9.4

Improve efficiency of resource utilization

9.5

Promote innovation

Reducing CO2 emissions
Reducing CO2 emissions (Scope 1,2) by approximately 5.6% compared with FY2015 levels
CO2 emissions (Scope 1,2)
2023: 9% or more reduction compared with FY2015 levels
2030: 30% reduction compared with FY2015 levels
2050: 100% reduction compared with FY2015 levels

7.3

Improve energy efficiency

13.2

Integrate climate change measures into strategies

Recycling resources and reducing waste

(1)

Industrial waste emissions: 18.5% year on year increase

(2)

Plastic recycling rate: increase China Factory: 6.3% (10% target)

(1)

Reducing industrial waste emissions: Reduction year on year

(2)

Plastic recycling rate: increase

12.2

Utilize resources efficiently

12.4

Minimize adverse effects on people's health and the environment

12.5

Reduce waste through recycling

Environmentally friendly design

Reduce bags used for user manuals: 100% reduction rate for new models

Reduce bags used for user manuals
Reducing harmful chemical substances
Leaks of harmful chemical substances from business locations: 0 incidents
Leaks of harmful chemical substances from business locations: 0 incidents
Water management
Water use (whole group)
Foshan Factory: 8.1% YoY increase
Vietnam Factory: 11.2% YoY increase
Water usage (groupwide): advance
activities for reduction of water usage

6.3

Improve water quality

6.4

Improve efficiency of water utilization

Human resource development Providing comfortable workplace environments and promoting diversity

(1)

Overtime: decreased by 4% YoY (head office),

decreased by 59% YOY (Aomori)

(2)

Mental health check results: improved year on year

(3)

Percentage of female managerial staff: 10.0% (3.0% YoY increase)

(4)

Percentage of employees with disabilities 2.09%

(1)

Overtime hours: 115,000 hours or less/year (head office)

(2)

Mental health check results: improve year on year

(3)

Percentage of female managerial staff: improve year on year

(4)

Percentage of employees with disabilities 2.3%

5.5

Women's leadership

8.2

Economic productivity

8.5

Equal pay for equal work

10.2

Inclusion of all people

Fostering the development of the next generation
Social contribution activity costs: 0.6% of previous year's consolidated operating income contributed, revision to regulations concerning social contribution activities
Social contribution activity costs: contribute past three years and 1% of previous year's consolidated operating income, increase in social contribution ratio for next-generation development (compared to 2022)

4.3

Access to technical and vocational education

Expanding the disclosure of nonfinancial information
Disclosure of information on the TCFD recommendations in the Integrated Report
Enhanced disclosure of human capital

17

Strengthen the means of implementation and revitalize the global partnership for sustainable development

Enhancing product quality and safety management
Improved design quality and lower defect costs: YoY improvement
Improved design quality and reduced defect costs

9.1

Affordable and equitable access to infrastructure

12.4

Minimize adverse effects on people's health and the environment

Promoting CSR procurement
Preparation of SAQ survey sheets with content taking into account environmental and human rights issues
Revised self-assessment questionnaire (SAQ) details to reflect changes to external conditions related to the environment and human rights issues

12.4

Minimize adverse effects on people's health and the environment

Preparing for major disasters
Creation of an earthquake initial response manual
Running of safety confirmation response drills
Conducted disaster response headquarters simulations

11.b

Disaster risk management

Improving the governance system

Complied with all principles of the revised Corporate Governance Code

Complied with all principles of the revised Corporate Governance Code
―
―